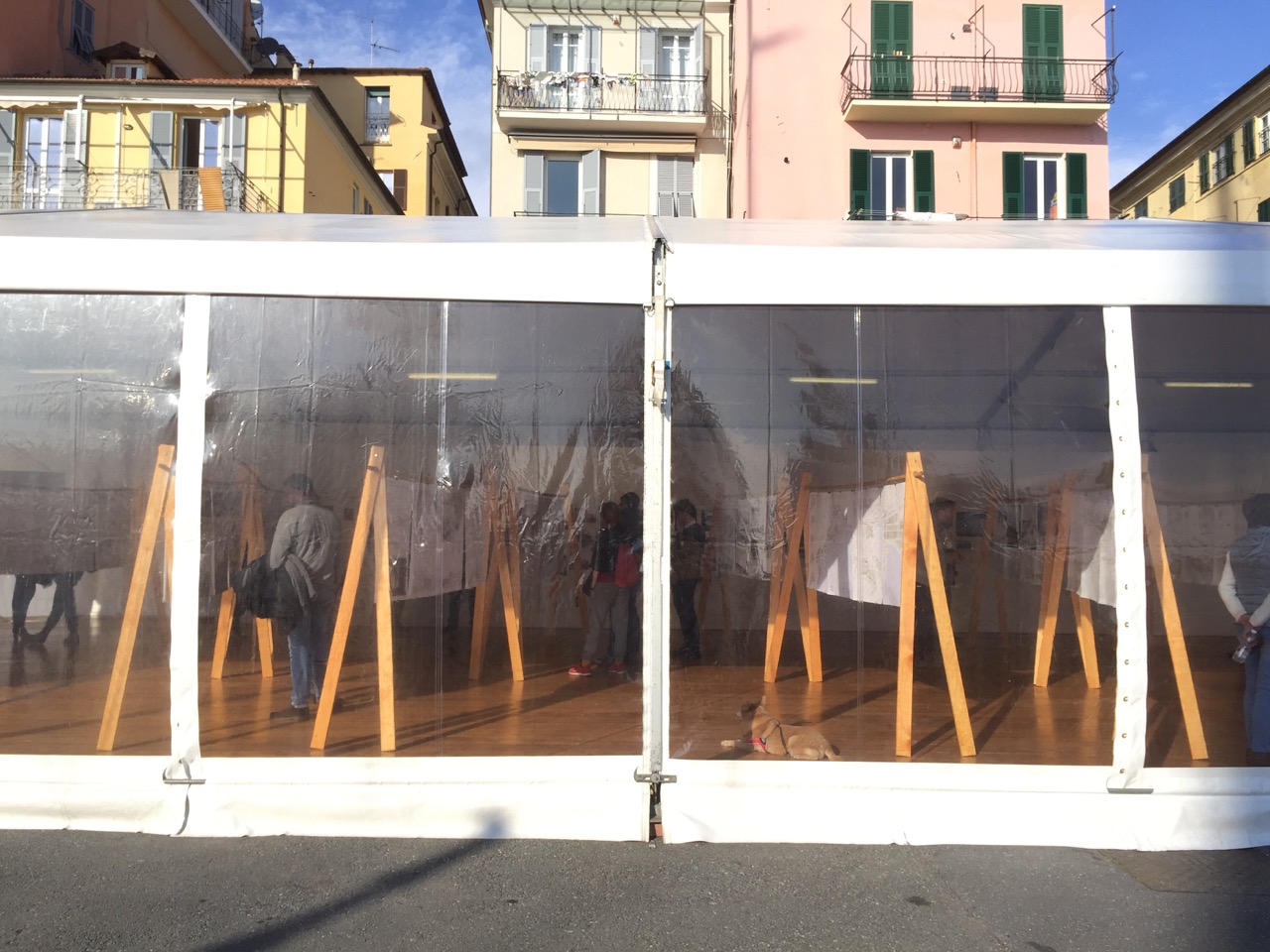 On 18th November 2016 the annual convention of Imperia Confindustria was integrated to a symposium focused on the outcomes in the form of urban, landscape and architectural projects that were produced through the first operative year (2016) of the Officina Imperia research laboratory. Presentations and discussions by various invited speakers addressed strategic visions and plans for the urban, landscape and economic regeneration of the town, highlighting the rich potential of existing infrastructures and ex-industrial areas as well as urban and landscape assets. Initial strategic directions were indicated for the potential transformation of the town and surrounding territory into an integrated whole of resilient environments informed and invigorated by sustainable economies capable to support and promote local products and qualities and yet attract global tourism, market and interest in general.
An exhibition of the projects that were previously illustrated and discussed through the morning symposium took place in Calata Cuneo harbor, from 18 to 27 November 2016. On a side of the open space with all urban, landscape and architectural projects, a photographic section along a wall intended to draw the public attention to the inherent and often overlooked qualities of existing sites and places in Imperia. The opposite side was deliberately clad in transparent sheets so as to further highlight a visual connection with the harbour, ships, water and surrounding coastal context as a quintessential environmental constituent of Imperia.
L'Assemblea Annuale della Confindustria di Imperia svoltasi il 18 Novembre 2016 e' stata tenuta correlatamente alla conferenza sul laboratorio Officina Imperia, e sui risultati prodotti, sotto forma di progetti urbani, architettonici e paesaggistici, durante il primo anno di tale laboratorio (2016). Le presentazioni dei vari relatori e la discussione generale relazionata ad esse si sono occupate di temi incentrati su idee e visioni strategiche per la rigenerazione urbana, paesaggistica ed economica della citta', anche evidenziando la ricchezza del patrimonio preesistente, sia a livello di infrastrutture ed aree industriali dismesse, sia a quello di spazi urbani ed aree paesaggistiche. Sono state indicate direzioni strategiche iniziali per la possibile trasformazione della citta' e del territorio circostante in un insieme integrato di spazi ed ambienti resilienti riattivati per mezzo di economie sostenibili che possano promuovere prodotti e qualita' locali, ma allo stesso tempo anche attrarre forme di turismo, attivita' imprenditoriali ed interesse in genere a livello internazionale.
Una mostra dei progetti trattati alla conferenza era stata organizzata nella zona portuale di Calata Cuneo da venerdi 18 a domenica 27 novembre. L'allestimento di tale mostra era stato curato in modo tale da esibire i progetti di riqualificazione urbana, architettonica e paesaggistica in uno spazio interno rettangolare continuo tipo loft, servito anche da una parete lunga che, disposta su di un lato e caratterizzata dalla presenza di fotografie di spazi urbani preesistenti di Imperia, intendeva attrarre l'attenzione del pubblico su qualita' intrinsiche, ma spesso sottovalutate, di luoghi preesistenti della citta'. Il lato opposto era stato volutamente rivestito con una facciata trasparente, cosi' da poter sottolineare maggiormente la relazione visiva con il porto, l'acqua e tutto il contesto limitrofo della costa come un'insieme di luoghi essenzialmente imperiesi.
Follow the links below to press and media releases associated with the Exhibition and Symposium